Not only is measles concerning for the patient, it can lead to exposure to hundreds of others in a short time.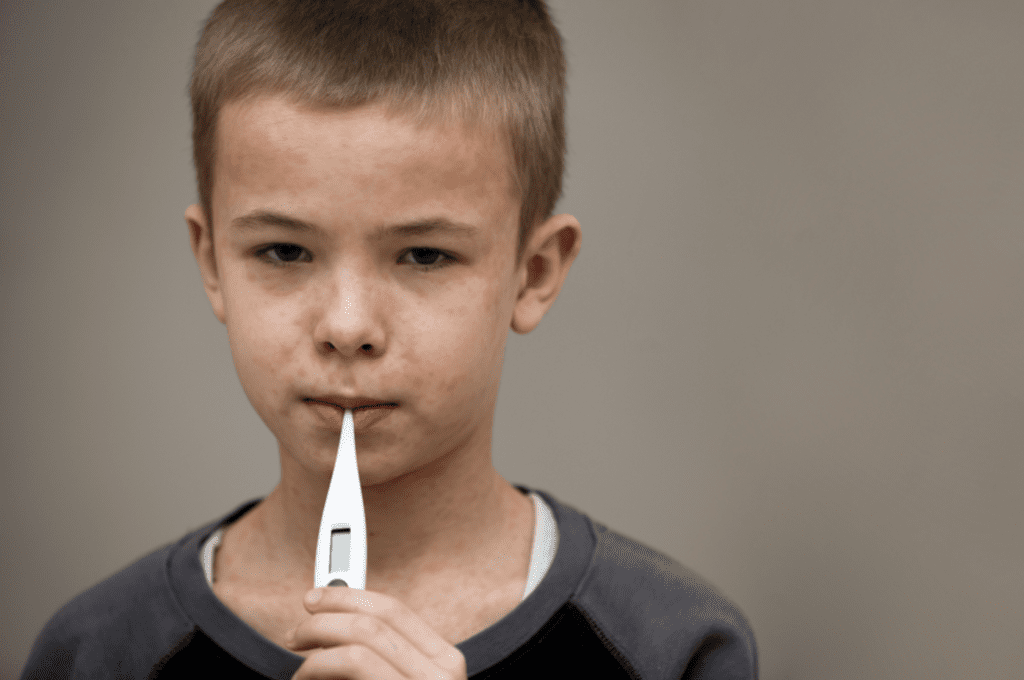 At United Concierge Medicine, our staff fosters an environment that truly allows us to use our knowledge and technology to accurately assess our patients, make appropriate sensible diagnoses, and formulate safe healing plans of action.

The following case is an encounter that proves our Virtual ER is an invaluable service to have for you, your family, your neighbors, and your coworkers. The at-home diagnosis of this case literally prevented hundreds of people from being exposed to this highly communicable disease.
A COLD, HIGH FEVER, AND A RASH
Teddy is a 12-year-old otherwise healthy boy, but his mother called in concerned about a rash he was developing on his face, and possible pinkeye in both eyes after about 2-3 days of what seemed like a mild cold: low-grade fever of 100, a runny nose, coughing, red eyes, and a mild sore throat. She stated that Teddy has had colds a just like this and she didn't think much of it until today when his 80-year-old grandmother, who was watching him, called her at work stating Teddy's fever was now 104.

The UCM medical provider, with more than 10 years of experience in Emergency Medicine and up-to-date on emerging medical trends, further determined that Teddy had just returned with his family from the Philippines 11 days earlier. She asked Mom to set up a video chat so that Teddy could be evaluated for some of the diagnosis possibilities she was thinking about; However, with Mom at work, that was not possible. Due to the fact that she was going to call UCM from work anyway that day because her pediatrician couldn't get Teddy into a sick appointment, the mother had taken multiple pictures of Teddy's face, eyes, and even "those weird white bumps inside his mouth" before leaving for work that morning, and quickly uploaded these photos to the conversation with the UCM provider.

As the saying goes, "pictures speak a thousand words," and the provider's suspicion that Teddy had a case of measles was all but confirmed. When this suspicion was shared with Teddy's mom, there was a brief silence until she offered that Teddy had never received his measles, mumps, and rubella vaccination for multiple different reasons.

VIRTUAL CONSULT PROVIDES DEFINITIVE DIAGNOSIS
Due to Teddy not being up-to-date with his measles vaccination, having returned from an area of the world known to have rising cases of measles, having the timing of and picture presentation of measles, including the mouth lesions known as Koplik spots, the UCM provider was astutely able to zero in on this definitive diagnosis.

In Teddy's case, further testing was not indicated, and the UCM provider reassured mom that using fever reducing medications, keeping Teddy hydrated, increasing his Vitamin A consumption, and allowing him to rest, generally is all that is needed to treat measles. She informed mom that Teddy is at risk, remotely, for secondary bacterial infection like pneumonia and encephalitis, or brain swelling, but simply to watch out for symptoms of these and follow up with Teddy's pediatrician.

TAKING THE EXTRA STEP IN PROVIDING CARE
As we commonly do at UCM, our practitioner took this case one step further and found that Teddy's mom and dad had not been vaccinated for measles either. Our provider recommended that both mom and dad be vaccinated through their doctors for measles, mumps, and rubella within the next 72 hours to help potentially reduce the symptoms of measles should they be stricken with it. Studies show that nearly 90% of unvaccinated people that come into contact with a patient that has measles will contract it. Fortunately, Teddy's grandmother, his only other known physical contact since returning from the Philippines, had measles as a young child and is considered immune to measles.

FOLLOW-UP CALLS TO MONITOR CONDITION
And, as a final step, the UCM provider informed the appropriate Health Department about this case and a representative from there helped Teddy and his family further through his illness. During multiple follow-up phone calls, following his diagnosis, Teddy had an uncomplicated course of measles and recovered fully.
Learn more about Measles from the Mayo Clinic
SYMPTOMS OF MEASLES
Measles can be dangerous, especially for babies and young children — and is a highly communicable disease. Do you know how to identify the signs and symptoms?
Provide your children with safe and long-lasting protection against measles by making sure they get the measles-mumps-rubella (MMR) vaccine according to CDC's recommended immunization schedule.
Do you think your child is showing signs and symptoms of Measles? Contact UCM right away: 844-4-VIP-DOC